---

What if, in 1935, Pres. Franklin Delano Roosevelt and Louisiana's Gov. Huey Long had had a face-to-face meeting? Would it have changed the course of history?
Er...maybe not...if they met at a Cajun shack on the Bayou. And FDR (or at least his double) was in his cups and running off at the mouth. And FDR's wife Eleanor came to harangue him about his mistress.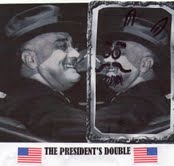 B,S Productions presents the world premiere of a new light comedy, The President's Double, written by local playwright Tom Hickman and directed by Steve Bailey.
The play will be performed on two consecutive Fridays and Saturdays -- May 21 & 22, and May 28 & 29, 2010 -- starting at 8:00 p.m. Performances will be held at Neptune Beach Senior Activity Center, 2004 Forest Ave., Neptune Beach. Admission is $10 per person. Wine is available at intermission, per donations. (Caution: The play contains some adult language and situations.)
If further information or directions are needed, call director Steve Bailey at (904) 246-0312.
---
To the Play's Performers: Our next rehearsal will be at the Pablo Creek Branch Library this Mon., May 17, from 7:00 to 8:45 p.m. This will be the final rehearsal before "dress," and we must be "off-book" at this rehearsal. If any problems or questions, call Steve ASAP at 246-0312 (home) or 314-5801 (cell).
---
Click on the appropriate link to read about:

The story of the play
The play's writer
The play's director
B,S Productions
Neptune Beach Senior Activity Center (where the play will be performed)


The Cast

Jerry Wisner as Pres. Franklin Delano Roosevelt
Travis Sauter as The General
Frances Paul as Eleanor Roosevelt
Patricia Smith as Lucy Mercer
Steve Bailey as Gov. Huey Long
Andrew McCraney as Tolliver
Terry Dean McCraney as B.J.
Joseph Wells Jr. as Roguespierre


---
This site was last updated on Thurs., May 13, 2010.

---