---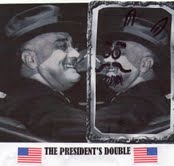 About the Writer
Tom Hickman is a prolific local playwright with a huge interest in political history. His previous plays, produced by Atlantic Beach Experimental Theatre (ABET), include The Guv'nor (1997), a one-act play about former Alabama governor George Wallace, and Forrest (2009), an audience-participation play in which theater-goers witness a mock trial of Confederate general Nathan Bedford Forrest and are allowed to vote on his guilt or innocence.
Hickman has also acted, for Orange Park Community Theatre, in Death Trap, Bell, Book and Candle, and You Can't Take It with You.
Hickman is a retired real-estate appraiser who has also written screenplays that have been optioned by Hollywood producers.
Links:
Promotional webpage for Forrest
Florida Times-Union article about Hickman and other local playwrights

Return to:
---