---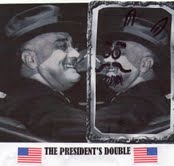 Attention, Actors and Actresses in the Jacksonville Area: Auditions for the light-comedy play "The President's Double" will be held on Sat., April 17, 2010, from 3:00 to 5:00 p.m. at the Pablo Creek Branch Library in Jacksonville, 13295 Beach Blvd. (between Kernan and Hodges Blvds.). Actors are needed to impersonate Pres. Franklin Roosevelt (FDR), Eleanor Roosevelt, and Gov. Huey Long. There are also roles for the Pres.' advisor, the Pres.' paramour, two Secret Service agents, and a thick-accented Cajun man. Please bring a head shot and a resume.
Before you audition, please be aware of three things. (1) Yours will be a non-paying role in a community-theater play, to be performed in Neptune Beach, FL. on May 21, 22, 28, and 29. (2) The April 17 audition will be "first come, first served." If you audition as FDR and you do it wonderfully, you'll be cast as FDR then and there. If you have a particular role in mind, don't wait until the last minute to attend the audition. (3) We will have only five (5) rehearsal dates available -- Saturday afternoons and Monday evenings from the end of April through mid-May. Slackers need not audition. Actors will have to hit the ground running and be ready, willing, and able to attend all of the few rehearsal dates available. Please commit!!
For more information or directions, call director Steve Bailey at (904) 236-0312, or E-mail him at stevebailey@gmail.com.
Return to:
---